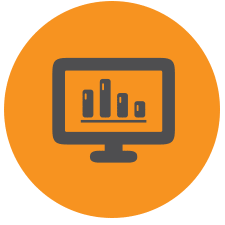 WEBSITES: DESIGN, DEVELOPMENT, AND CONTENT
People come to your website to not only make sure you're legit, but also to get a sense of who you are. Your website needs to convey who you are, what you do, and what I can buy from you. It also needs to project an image that impacts how they feel and think about you. Our website design process helps get at the heart of your true expression. We kick off every website project with a creative brief to establish the strategy. Then we move through site map organization, content mapping, and prototype design. With the framework set in place we can begin development. We develop WordPress sites for the highest backend quality and provide ongoing support and all the training you need.
EVENT MARKETING: BOOTH, BANNERS, AND FLYERS
You need to make a polished first impression when exhibiting at a scientific conference, meeting, or show. Whether it's in a 10 x 10 booth or retractable banner stand with table cover, we create professional, eye-catching designs for a positive brand experience.
LOGO DESIGN
Goldfish designs logos to launch your new company or sub-brands for new products or services. We start with a creative brief to align with your strategy and present several options to choose from.
POWERPOINT & PITCH DECKS
Goldfish can create a professional design for your presentation slides. Whether you are pitching to investors or training a sales team, we can improve the visual appearance of your slides with more white space and graphics, and less bullets.
CONTACT US
Amy Duncan
Founder and Chief Marketing Consultant
Life Science Marketing Consultant
Goldfish Consulting, Inc.
+1.858.876.7009
info@goldfishconsulting.com